710 S.E. Fidalgo Ave. Suite 101
Oak Harbor, WA 98277
| Click here to contact us | Map it |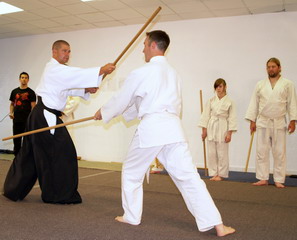 Kenjutsu is the study of sword technique that includes sword drawing techniques, batto (cutting techniques), classical sword strategies and techniques. Correct sword posture and footwork are also taught. This makes Kenjutsu absolutely essential to the study of Aikido.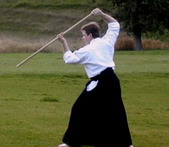 The jo (also known as "tsue", a walking stick) is one of the traditional weapons learned in association with the Japanese sword. The beauty and grace of the jo techniques as well as its relative ease of use make it one of the most useful weapons. Traditionally, the jo is included as part of the study of Japanese swordsmen.


Leave all thoughts of competition
and/or winning or losing outside the Dojo.