710 S.E. Fidalgo Ave. Suite 101
Oak Harbor, WA 98277
| Click here to contact us | Map it |

Aikido represents the highest expression of Japanese Budo or martial arts. More than being an effective (if not the most effective) form of self-defense, it is also strongly based in a moral perspective almost unknown in the world today.
Many people are drawn to Aikido because of its unique approach to spiritual concepts as well as mind and body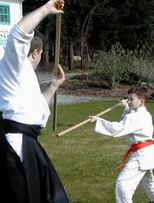 coordination. It is not a religion and only as a side benefit does it become the most effective of self-defense arts. At Aikido Seikikai, we teach the virtues of Ji (kindness), Gi (correctness), Rei (respect), Chi (wisdom), Shin (faith), Chu (piety), Ko (meritorious service).
Aikido can be practiced by people of any age. The effortless grace of Aikido movement is not developed through the use of muscle but by the development of personal power, ki, through the discipline of the art.
The classes are divided into adult and children's classes. There are no beginner's classes. One enters the class much as one enters life - by simply beginning. Each individual is, however, encouraged to progress as they are able. The setting is formal and proper etiquette is stressed. Whether you're a beginner or an advanced student of the art special attention is paid to the individual needs of each student. Beginners are encouraged to progress but not obliged to go past what they are able or willing to do. The classes are one hour of intensive training and varied enough to insure steady progress in the technical ability of even the most advanced student. Instructor Training is also provided at the Oak Harbor Dojo.
Get information on Schedules, Prices, Test Requirements and a Video Sneak Peek of Classes